'My superman, my inspiration'! Superman? Well, you all might be wondering what am I talking about! My fellow readers, let me tell you one thing – We are quite familiar with the 'Superman' movie or any movie where a hero overcomes the villain and saves the day. That is the general moral of the story. But, that does not mean that every person has to play the hero and save his heroine from the clutches of the baddies in order to become a 'Superman'. To be a 'Superman', one has to be dedicated, caring, loving, friendly and devoted in any particular task he/she has been assigned. Only then, that person would be successful in his life and will be beneficial for him/her in the long run.
Such an inspiring story happened truly in a tiny South-East Asian country, called Singapore. And every nation has to learn and respect the tough task done in a short period of time. Singapore, like the Indian subcontinent was an impoverished nation, ruled by Britain for the last 200 years or so. There was poverty and a sense of loneliness everywhere. In came, a young educated Cambridge student from London, who came back to his own country to gain independence from Britain and start developing Singapore. Often, called a sage and a shrewd craftsman, he was the true architect of Singapore's rapid rise to the global scene and economic prosperity. His name was 'Superman Lee' or better known as Lee Kuan Yew.
Lee Kuan Yew was the first Prime Minister of Singapore, governing for more than three decades from 1959 to 1990, including through Singapore's independence from Britain in 1963 and Malaysia in 1965. Lee is recognised as the founding father of independent Singapore, with the country being described as a period of transition from the "third world to the first world in a single generation" under his leadership. Such rapid strides made in a short span also came to be known as the 'Asian Miracle', which also existed in other countries like Malaysia, Japan, China, Thailand and South Korea.
Lee's English-educated parents named him "Kuan Yew", which stands for "light and brightness", with an alternate meaning "bringing great glory to one's ancestors". His paternal grandfather gave him the English name "Harry". He was a fourth generation Singaporean of Hakka and Chinese descent, born on September 16, 1923. His Hakka great-grandfather, Lee Bok Boon, born in 1846, emigrated from Dabu County, Guangdong province in China to Singapore in 1863.
He married a shopkeeper's daughter, Seow Huan Nio, but returned to China in 1882, leaving behind his wife and three children. He died just two years after his return. Lee Kuan Yew's grandfather Lee Hoon Leong, was born in Singapore in 1871. He was educated in English at Raffles Institution, and graduated from Fitzwilliam College, Cambridge University, with a double starred-first-class honours in law. In 1950, he returned back to Singapore and became a barrister of the Middle Temple and practised law until 1959.
Lee's future wife, Kwa Geok Choo was a former pupil and her classmate of Methodist Girls' School, Raffles Institution, and Raffles College, and pursued law at Girton College, Cambridge University, where she was a Queen's Scholar from Malaya. Kwa married Lee Kuan Yew in secret in London in 1947 and then remarried in Singapore on September 30, 1950. Her brother, Dr. Kwa Soon Bee, served as Permanent Secretary of the Ministry of Health in her husband's cabinet at that time.
After Lee chose to step down as Prime Minister in 1990, Lee's successor, Goh Chok Tong, appointed him as Senior Minister, a post he held until 2004. when his elder son, Lee Hsien Loong, became the nation's third prime minister, he assumed the advisory post of Minister Mentor until he left the Cabinet in 2011. In total, Lee Kuan Yew held successive ministerial positions for atleast 56 years.
Lee and Choo has two sons and one daughter. Lee's eldest son, Lee Hsien Loong, a former Brigadier-General of the Singapore Army, is the current Prime Minister of Singapore since 2004. Several members of Lee's family also hold prominent positions in the Singaporean society. His youngest son, Lee Hsien Yang, was also a former Brigadier-General and former President and Chief Executive Officer(CEO) of Singapore Telecommunications. He is currently the Chairman of the Civil Aviation Authority of Singapore(CAAS). He died on March 23, 2015 at the Singapore General Hospital at the ripe old age of 92 and his funeral was attended by many high profile world leaders.
Lee's daughter, Lee Wei Ling, is the head of the National Neuroscience Institute in Singapore. Lee Hsien Loong's wife, Ho Ching, is the Executive Director and CEO of Temasek Holdings, a financial firm. Both Lee and Choo spoke English as their first language. Lee started learning Chinese in 1955, as he was illiterate in Chinese. He also learned Japanese as an adult and he worked as a Japanese translator during the Japanese occupation of Singapore.
During Lee's years as Prime Minister and Senior Minister, his wife used to accompany with her husband, especially on diplomatic trips and meetings with other foreign ministers. She died in October 2, 2010 in her sleep due to brain tumour.
Lee co-founded the People's Action Party(PAP) in 1954 and was its first secretary-general, a position he held until 1992, leading the party to eight outright consecutive victories. He won the Tanjong Pagar GRC seat in the 1955 elections and retained his constituency for 60 years, until his death. In the national elections held in 1959, the PAP won 43 of the 51 seats in the legislative assembly.
Singapore gained self-governance with autonomy in all state matters except defence and foreign affairs, which Britain granted. Lee Kuan Yew, then became the first ever Prime Minister of Singapore in 1959, taking over from Chief Minister Lim Yew Hock, who at once abolished the post of the Chief Minister of Singapore. 
After Malayan Prime Minister Tunku Abdul Rahman proposed the formation of a federation which would include Malaya, Singapore, Sabah and Sarawak in 1961, Lee began to campaign for the merger by ending British colonial rule in 1963. He used the results of a referendum held in 1962, in which over 75% of the votes were cast in support of his proposal, to demonstrate that the people supported the merger plan.
On September 16, 1963, Singapore became part of the new Federation of Malaysia. However, the union was short-lived. The Malaysian central government, ruled by the United Malays National Organisation(UMNO), became worried by the inclusion of Singapore's Chinese majority and the political challenge of the PAP in Malaysia. Around 65% of the people in Malaysia practise Islam, and there was a fear that it could lead to communal violence, with the inclusion of Singapore.
Racial strife and political tensions led to Singapore's separation from the Malaysian Federation after only two years. Unable to resolve the race crisis, Malaysian Premier Tunku Abdul Rahman decided to expel Singapore from Malaysia, choosing to "sever all ties with a state government that showed no measure of loyalty to its central government". Lee was adamant and tried to work out a compromise, but with no success.
He then signed a separation agreement on August 7, 1965, which discussed Singapore's post-separation relations with Malaysia in order to continue cooperation in areas such as trade and mutual defence. With overwhelming parliamentary control, Lee and his cabinet oversaw Singapore's transformation from a relatively underdeveloped colonial outpost with no natural resources to an Asian Tiger economy within 20 years. In the process, he forged a widely admired system of meritocratic, corruption-free and highly efficient government and civil service.
The failure of the merger was a heavy blow to Lee, who believed that it was crucial for Singapore's survival. On August 9, 1965, the Malaysian parliament passed the required resolution that would sever Singapore's ties to Malaysia as a state, and thus the Republic of Singapore was created. Singapore's lack of natural resources, a water supply that was derived primarily from Malaysia and a very limited defensive capability were the major challenges which Lee and the nascent Singaporean government faced at that time.
Lee's death and his son's expected retirement within the next few years will mark the end of the dream era, but industry leaders say any change of the guard will have little impact on business in the city-state, which is renowned for its robust institutions.
When Singapore separated from the Malaysian Federation, Lee's wife drafted the clauses in the Separation Agreement for the guarantee of the water agreements between the Malaysian state of Johor and Singapore. This guarantee was done via a constitutional amendment to the Federation of Malaysia's Constitution.
It is also notable that before Singapore's merger with Malaysia, Choo had told her husband that she did not feel positive about the merger. Her gut feelings were later proven true when the merger fell through shortly after it was passed. She was also a pioneer advocate of Singapore women's rights.
Lee began to seek international recognition of Singapore's independence. Singapore joined the United Nations on September 21, 1965, and founded the Association of South-East Asian Nations(ASEAN) on August 8, 1967 with four other South-East Asian countries namely, Indonesia, Malaysia, Thailand and Philippines. Lee made his first official visit to Indonesia in May 1973.
Concurrently, the Indonesian leader Sukarno, visited Singapore in 1974. The relationship between Singapore and Indonesia substantially improved as subsequent visits were made between the two countries afterwards. In June 1988, Lee and the then Malaysian Prime Minister Mahathir Mohamad reached an agreement in Kuala Lumpur to build the Linggui Dam on the Johor River, thereby stabilising their nascent relations.
Lee eschewed populist policies in favour of pragmatic long-term social and economic measures. With meritocracy and multiracialism of the governing principles, he made English the common language in the country to integrate its immigrant society and to facilitate trade with the West. However, Lee also mandated bilingualism in schools for students to preserve their mother-tongue cultural identity.
Lee's rule was criticised, particularly in the West, for curtailing civil liberties like public protests, media control and internet censorship and bringing libel suits against political opponents. But, he argued that such disciplinary measures were necessary for political stability, which together with rule of law, were essential for economic progression.
His leadership was sometimes criticised for suppressing freedom and as a soft authoritarianism as mentioned above, but the formula of the so called Lee's 'Singapore model' succeeded in a big way. The country then became an international business destination and financial centre for foreign investors, admired by its efficiency and business-friendly policies.
Singapore is one of the few countries in Asia to have extremely low levels of corruption. The people of the nation has to thank their leader for everything – this man was efficient, incorrupt, inventive, forward-looking and pragmatic. Of course, he himself had said in a BBC interview in 2005 – "Yes, we have done it and are ideology free."
In his interview, Lee also mentioned that after Singapore had split from the Malaysian Federation, he called the event his 'moment of anguish' – he had seen himself in a never ending struggle to overcome the nation's lack of natural resources, a potentially hostile environment and a volatile ethnic mix of Chinese, Malays and Indians. The model has been admired and studied by leaders in Asia and beyond as well as being the subject of countless academic studies. Lee's leadership, as described by political observers around the world was a 'unique combination of charisma and fear.'
Even among people who knew little of Singapore, Lee was famous for his national self-improvement campaigns, which urged people to do such good things as smile, eat good food, speak good English along with the local language spoken and flush the toilet, but never to spit, chew gum or throw garbage off balconies.
He was a master of 'Asian values', a concept in which the good of society took precedence over the rights of the individual and citizens ceded some autonomy in return for paternalistic rule. His contributions to the island nation was equally important, which their people will not forget in their lives and after generations.
Interestingly, the Indian English newspapers Hindustan Times and The Times of India, compared with the Singapore model being implemented in India. The data prepared by the reporters also shows that the model was viable for a poor and a huge country like India, and that the country had been developing and developing and failing to lift half of the population out of the poverty line. Even after 68 years of independence, India still have both internal and external problems which the governments have failed to solve the issues amicably.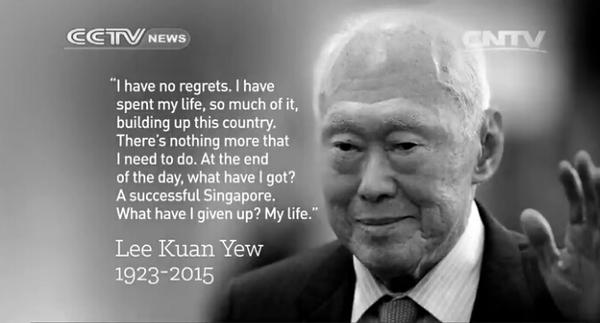 Whenever asked how India could get its economy going, Lee would say – cut red tape, support the private sector, reform labour laws, build infrastructure and attract foreign capital. The endgame was to boost manufacturing. Lee believed the service sector alone could not generate enough employment for India's millions. "The jobs will grow and the country will be transformed," Lee would argue. And transformation was his specialty – the man who single-handedly transformed a poor, malarial port into the richest nation in the Indo-Pacific.
Lee's formula sounds familiar to anyone who has been listening to Modi's speeches on the economy. This is no coincidence. Our Prime Minister Modi has been heavily influenced by the economic experiences of the South-East Asian countries. The former Singapore prime minister Goh Chok Tong is the closest thing the Indian leader has to an international mentor.
The mistake is to assume Lee's prescription for Asian leaders was that they should be dyed in the wool capitalist. Lee experimented with socialism and five-year plans when he took over Singapore. It was the abject failure of such policies that led him to turn right. This is the real legacy he leaves for people like Modi: pragmatism. "If it works, let's try it," Lee once said. "If it's fine, let's continue it. If it doesn't work, toss it out, try another one."
Lee's head-shaking about India was because of how long its leaders pursued failed policies, how New Delhi adhered to economic policies that consistently failed the country for decades. He recounts how in the early 1980s, she urged Indira Gandhi to take a path away from socialism and populism. Indira Gandhi replied to him that – "I cannot because this is the way India is." He largely gave up on India after that.
But if New Delhi's leadership believed Singapore's model was incompatible with India's conditions, Beijing's leadership did not. As many have written, it was Deng Xiaoping's experience of Singapore and Lee pointing out that this modern metropolis was the handiwork of the descendants of 'illiterate Hokkien peasants', that led Deng to initiate the reforms that have made China the superpower it is today. Any number of Indian leaders was to see a similar lesson in Singapore and the Asian tiger miracle as a whole – from V.K Singh to Dr. Manmohan Singh. Yet they largely failed to find the political capacity to convert ideas into practice.
Why India's leaders were unable to carry out what they privately tell him was necessary was a source of regular speculation by Lee? It has also led to some of his most ridiculed statements regarding India. His favourite scapegoats were India's democratic polity, the caste system – partly because it meant that 'the genetic pool' didn't get mixed enough, the mindset of Indian bureaucrats, India's heterogeneity, socialism in general and the country's unfathomable inability to build infrastructure.
Lee believed India was capable of greatness. India is a nation of unfulfilled greatness. Its potential has lain fallow, underused. He believed Indian businesses were superior to their Chinese counterparts, as were Indian judges and even the Indian elite as a whole. "If all Indian ministers and top bureaucrats were like N.R Narayana Murthy, India would be one of the fastest growing countries in the world and in one generation would be a first world country," Lee once declared.
While Lee's economic views and more eccentric views about biology and sociology catch the limelight, he had a strong sense of Asian geopolitics and the necessary role of a strong India. In the 1950s, Lee Kuan Yew had asked New Delhi to take over the defence of Singapore. But, Jawaharlal Nehru rejected the proposal, though grumbling when Lee inevitably turned to the United States instead. But Lee always retained the idea of India as a major Asian military power.
Lee's long-term view that ultimately Asia's security was best left with Asians. The USA or other Western powers had a role, but only because the larger Asian powers were unwilling to play or be accepted as policemen. He used to talk of his hope India would consider declaring a 'Monroe doctrine' for Asia. In both cases, Lee saw India's role as crucial. As he once told Ratan Tata, "If India does not emerge, Asia will be submerged entirely."
India can project power across its borders better and further than China can, yet there is no fear that India has aggressive intentions. Democracy was an asset in foreign policy. Why, Lee wondered, was India's rise not scaring anyone. His answer was – 'Indian democracy had numerous political forces that were constantly at work, making for an internal system of checks and balances and this reassured others that more aggressive tendencies would held in check'.
If Modi implements the Singapore inspired reforms that his predecessors could not, Lee will be able to claim to have been pivotal to the transformation of the world's two largest countries by providing a tangible, viable model for both. For now, RIP 'Superman' Lee and may you continue to inspire others. Now, that was a Superman story. A real story with no jokes or puns at all. It was all hardwork and dedication, not for show-off or entertainment.